Uncategorized
Frothy, toxic foam covers Indian beach, but people are playing in it
The Marina Beach in Chennai, the longest in the country, is seen coated with a knee deep layer of toxic foam and experts have expressed their concern about potential health hazards however that hasn't stopped tourists and the public from venturing into the white foamy sands and having fun, reports the news organization AFP.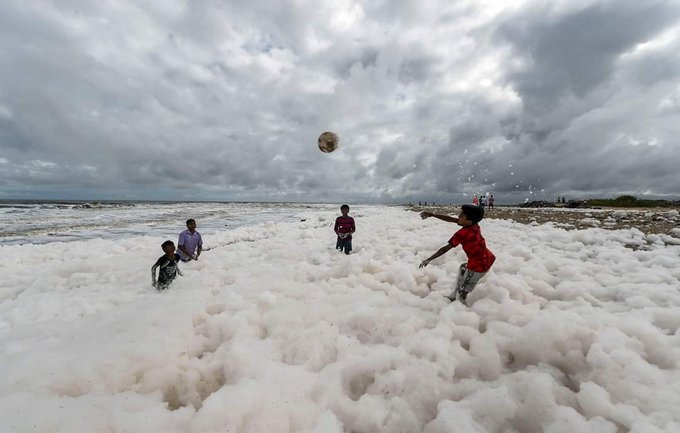 AFP reports that this is not the first time that this is happening as these have become a common occurrence each year when the annual monsoon rains wash away the pollutants to the sea.
The key ingredients in the froth is mostly detergent and other waste, foaming and bubbling through aeolian and fluvial action.
Pravakar Mishra, a scientist at the National Centre for Coastal Research, told AFP that only 40% of the city's wastewater is treated and recycled whereas the rest of the sewage finds its way to the sea unfettered.
The foam has the ability to cause skin related infections due to the pollutants present in the water and fishermen have been warned not to venture into the water to avoid any such infections.
People have become more skeptical buying the fishes caught in the sea as they suspect that the pollutants might have found their way into the food chains, making his catch worthless, a fisherman named Jeyaseelan has told AFP. People have also witnessed mass dying of these fishes near the coastal waters in 2016 and 2017.
Pollution is a cause for concern, not only in Chennai, but also in other major cities in India, as smog and particulate matter has resulted in poor air quality, detrimentally affecting many people. Much has to be done towards water sanitation as well which would prevent deterioration of water bodies.
Another striking example of this indiscriminate water pollution was when many bright blue dogs were spotted in Mumbai and it turned out that they had had a swim in a river where a dye factory had been dumping their effluents.
Plastic and other garbage pollution is also rampant in these beaches and it's about time the authorities and the public realize the damage done.