Science
World's first human composting site to open in 2021
When humans reach the end of the road in their peregrinations of life, there are usually two options that they can choose for their remains – burial or cremation, and now there is yet another option available to them as an alternative – compost.
This facility, which would be the world's first, is about to begin operations in Seattle, Washington in 2021, which aims to covert the human remains into soil in a process called recomposition or natural organic reduction.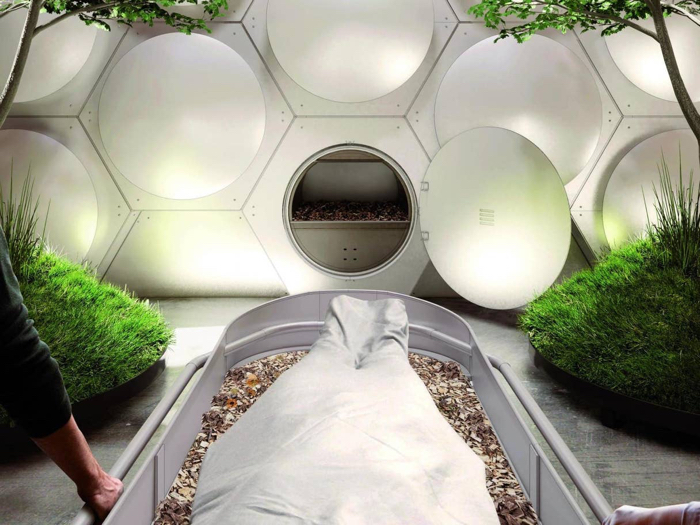 Washington will become the first state in the US to allow for human composting after a historic bill to that effect this year, a culmination of years of work by Katrina Spade, founder of the company.
We already are aware of life-care however Katrina has announced a death-care revolution in the country when the bill goes into effect May 2020, where the bodies of the deceased will be transformed into soil in one of their reusable and hexagonal recomposition pods.
Their website mentions that the deceased person who's opted for the green burial, will be covered with wood chips and provided with sufficient amount of air in them which would provide a perfect breeding ground for natural microbes to thrive, which would happen within their reusable pods.
This whole process of recomposting which would give rise to soil using the deceased person's body as the starting point will take 30 days, which can subsequently be used to grow new life.
The family members of the deceased are exhorted to take some or all of the soil, post the composting process, and can use them to grow plants in their garden.
This alternative provides a more environment friendly means for the post life ritual rather than burying or cremating, as that would require more energy to reach the desired temperatures, consequently emitting CO2 in the process. Conservation remains central to the company's core policy.
This whole process, which comes at a cost of $5,500, reckons that each person by opting in for the process could save about a metric tonne of CO2 due to the carbon sequestration that happens at various points during the process. This process also generates useful nutrient rich soil rather than using the existing soil within the limited land capacity.
Spade mentioned that there's something deeply gratifying about the whole process, where we are able to generate a new life which could be quite meaningful.