Uncategorized
Australia fires: Tonnes of carrots and sweet potatoes dropped by helicopter for starving animals
Carrots and sweet potatoes have been dropped from the air to help wallabies in a fire-ravaged region in Australia. The food drops would be used state-wide as a short-term strategy to help endangered animals.
According to the minister for energy and environment for New South Wales Matt Kean, thousands of kilograms of food have been delivered to the animals in Operation Rock Wallaby. The mission is targeting rock wallabies, which normally feed off the grasses, shrubs and leaves that have been torched by the fires. The species was already classified as endangered before the fires, making the success of Operation Rock Wallaby all the more important.
The wallabies typically survive the fire itself but are then left stranded with limited natural food as the fire takes out the vegetation around their rocky habitat. The wallabies were already under stress from the ongoing drought, making survival challenging for the wallabies without assistance.
Matt Kean shared an image of a person throwing carrots from a helicopter, explaining that the vegetable and sweet potatoes have made up most of the provisions given to the animals affected by the bushfires sweeping the region.
See the picture below of one happy customer.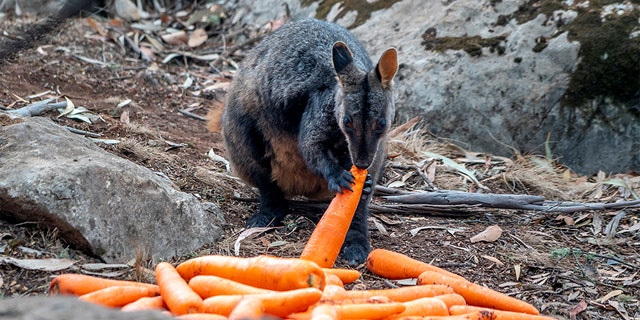 According to Jess Abrahams, Australian Conservation Foundation (ACF) nature campaigner, the food drops were a 'sensible emergency response' but said long-term action to tackle climate change was of the utmost importance.
Chris Dickman, an ecologist at the University of Sydney, said the number of animals now killed by the fires is more than one billion – 'without any doubt at all.' He added that approximately 800 million animals might have perished in New South Wales alone.
Millions of acres of land in Australia has been torched by blazes since September, endangering animals and destroying their food sources. Across the country, more than 27 people have killed, and the devastating fires have destroyed thousands of homes. Over 100 fires burned in New South Wales on Sunday.
Scott Morrison, the Australian prime minister, said in a weekend interview that he could have interacted with members of the public affected by fires better, after a spate of tense encounters saw people heckling the PM and refusing the shake his hand.
Morrison has faced criticism for his handling of the crisis, such as holidays in Hawaii, while fires raged and defending Australia's coal industry in the wake of criticism over the government's climate change policies.
New South Wales, whose National Parks and Wildlife Service led the efforts to feed its local brush-tailed rock-wallaby population, has been one of the worst-hit regions by wildfires.