Uncategorized
The temperature in Antarctica Rises Above 20C for the First Time on Record
'Temperatures over 20 degrees Celsius have been observed in Antarctica,' and remote monitoring scientists describe the new record as 'incredibly abnormal.'
The highest temperature exceeded 20 degrees Celsius on Seymour Island, which is closest to the South American continent on the Antarctic Peninsula. The maximum temperature of 20.75 degrees Celsius recorded at 13:00 on February 9 exceeded the record of 19.8 degrees Celsius observed on Signy Island in January 1982.
In Antarctica, the Antarctic Research Station in Argentina just observed a maximum temperature of 18.3 degrees Celsius on February 6, 2020.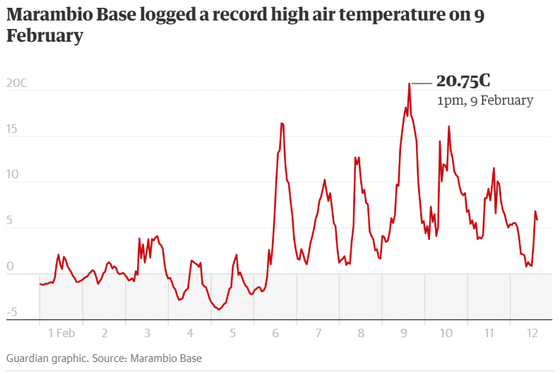 Although it needs to be confirmed by the World Meteorological Organization (WMO) to be recognized as a formal record, the observation record of 20.75 degrees is consistent with the warming trend confirmed throughout Antarctica. "There are warming trends in many places that monitor temperature, but never more than 20 degrees," said Carlos Shafer, who works for a meteorological observation facility as part of a project of the Brazilian government.
According to Shafer, temperatures around Seymour Island, the South Shetland Islands, and James Ross Island have been unstable over the past two decades, and have been cooling for ten years since 2001, followed by rapid warming. That's right. Shaffer claims that 'we are affected by changes in currents and the El Nino phenomenon.'
Besides, Antarctica has a huge amount of ice, and the Antarctic ice sheet is said to store about 70 percent of the earth's freshwater. Melting this ice sheet has led to sea-level rise, suggesting that some coastal cities may be submerged. Also, sea ice and are seen as a greater impact on wildlife to important habitat, the actual distribution from South America southern tip to around Antarctica chinstrap penguins inhabit the number of is reduced more than 50 percent, the It has been reported.
'It's important to have monitoring areas like the South Shetland Islands and the Antarctic Peninsula because monitoring can anticipate developments that will occur soon,' she said.
Swedish teenager Greta Thunberg, who founded the global Fridays for Future movement, and other advocates for ambitious climate action shared the media report about the new Antarctic record on Twitter Thursday:
Responding to a Vox report about the recent temperature records in Antarctica, U.S. Sen. Ed Markey (D-Mass.) tweeted Thursday: "The climate crisis is happening now. We need a Green New Deal." Markey and Rep. Alexandria Ocasio-Cortez (D-N.Y.) introduced the Green New Deal resolution in February 2019.
News of the Brazilian scientists' finding came as experts at NOAA's National Centers for Environmental Information revealed that "in 141 years of climate records, there has never been a warmer January than last month."
The past decade has been the hottest on record, the United Nations said last month, with 2019 the second-hottest year ever, after 2016.