Uncategorized
Lead Poisoning Kills Bald Eagles Across the United States
Hunters threaten America's national bird. Not that hunters are aiming at the iconic bald eagle, but bald eagles are dying after eating lead bullets.
The Cape Fear Raptor Center, North Carolina's largest eagle rehab facility, has recently treated seven eagles for lead poisoning, executive director Dr. Joni Shimp said. The center also said that 80 percent of the eagles it has had to euthanize since November was because of lead poisoning.
In the 1970s and 1980s, when bald eagles (Haliaeetus leucocephalus) were at their population lows from DDT poisoning, lead poisoning in eagles appeared to be related to ingestion of lead-poisoned waterfowl.
Hunters use lead bullets to kill deer and other animals. Although the hunters aren't targeting eagles, the birds are still indirectly affected when they consume animals shot with those bullets. "Hunters in no way, shape or form intentionally try to kill an eagle, vulture or any other species," Shimp added.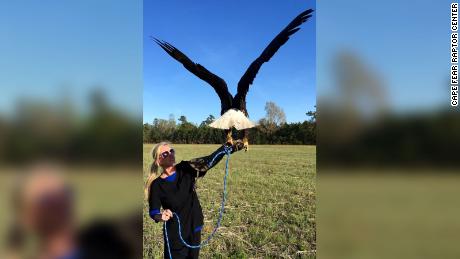 "If the deer isn't killed immediately and runs and the hunter can't find the deer, the eagles and vultures find it and ingest the lead." Once absorbed in the gastrointestinal tract, the lead becomes toxic.
Similarly, officials from the Hatteras Island Wildlife Rehabilitation in North Carolina said that 70 to 80 percent of the eagles they treat have high levels of lead in their system, and the effects are devastating, according to WTKR in North Carolina and coastal Virginia.
"The bird is lethargic, it's limp, it may have vision problems, staggering, legs not working correctly," explained Lou Browning of Hatteras Island Wildlife Rehabilitation to WTKR. According to the American Bird Conservancy, millions of birds every year die from lead poisoning.
Shimp also explained some of the neurological problems that result from lead exposure to eagles. She told CNN that the eagles would show a "lack of judgment when flying across roadways, the inability to take flight quickly resulting in being hit by cars, seizures, and death."
The bullets hunters use often shatter into tiny fragments that travel through an animal's body.
"It's often said a piece of lead the size of a grain of rice is enough to take down an eagle," Doug Hitchcox, a naturalist from Maine Audubon, said. Maine had five cases of eagles dying from lead poisoning in January alone, according to NECN in New England.
The latest incident for the center occurred Friday when Hatteras Island Wildlife Rehabilitation found an eagle showing symptoms of lead poisoning and transported it to the Cape Fear Raptor Center for treatment. Dehydrated and too weak to move, the bird died the same night, said Lou Browning, president of the rehabilitation center.
Hunters and bird advocates agree that changes in ammunition would go a long way to solving the problem. That small change makes a big impact on eagles. "The most direct thing would be to switch to copper bullets instead of lead," Browning said to WTKR.