Uncategorized
Air pollution and CO2 fall rapidly as Corona-virus spreads
Relief for the environment as humans takes a break from most of their daily activities following the coronavirus pandemic.
Following a lockdown on most major cities and towns as the government takes measures to control the spread of the coronavirus. The environment is enjoying a healing moment due to reduced human traveling and low industrial operations.
Scientists in New York said to BBC that their preliminary results showed a significant reduction of carbon monoxide mainly from cars by about 50 percent as compared to last year. In New York City, most people are staying at home due to coronavirus hence not taking to the roads, leading to a dramatic drop in the level of carbon monoxide in the air, which is a hazardous gas produced from vehicle emissions.
Scientists at Columbia University discovered emissions of carbon monoxide fell by around 50 percent for a couple of days this week and detected between a 5 and 10 percent drop in CO2 over New York City. Despite these being early results, they are similar to the environmental impact seen in China and Italy, where lockdowns have been ongoing for several weeks.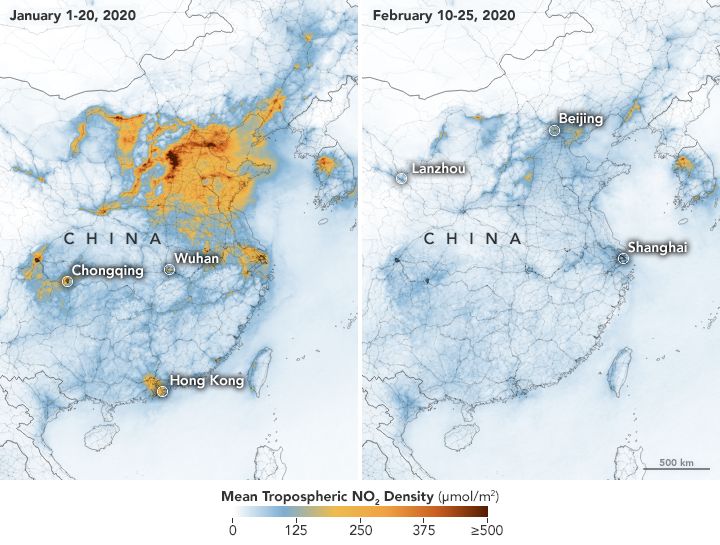 Furthermore, researchers anticipate that by May, when CO2 emissions are at their peak, the levels recorded might be the lowest since the financial crisis over a decade ago.
According to Prof Roisin Commane of Columbia University, who carried out the New York air monitoring study, New York has had exceptionally high carbon monoxide numbers for the last year and a half. The air quality improvements in New York came as the number of confirmed coronavirus cases in the Big Apple doubled to 1,871 in 24 hours between Tuesday and Wednesday and are expected to rise further in the coming days.
Sadly, according to ESA, as the quarantine begins to lift, emissions are already starting to increase over parts of China. Scientists warn that this good news to environment conservatism is only temporary, and sooner than later, the pollution levels will return to normal once economic activities ramp up again.
According to the European Space Agency, the Copernicus Sentinel-5P satellite revealed a decline in air pollution over Italy, precisely nitrogen dioxide (NO2) emissions.
Specialists believe that there will be an overall drop of around 1 percent in China's carbon emissions this year. This follows an analysis conducted out for the climate website Carbon Brief which suggested a 25 percent fall in energy use and emissions in China over two weeks.